It is not uncommon for cat owners to find small piles of spit up food around their home. Many of us out of the know may wonder why our feline friend has regurgitated their food. Even more, we may wonder how it's possible to find our cat eating later in the day.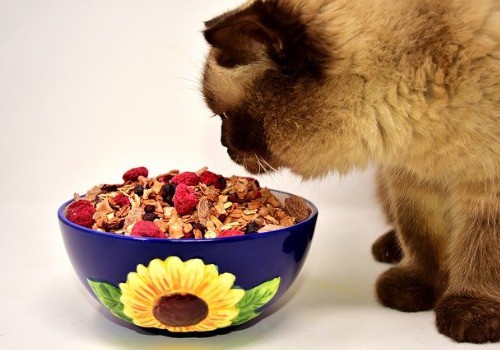 While it is possible the health of our cat may be in question, it is important to keep a level head and consider other, less alarming options. One thing to investigate is the pace of your cat's food intake. When our pets eat too quickly or too often, they can become bloated or overweight.
While feeding our pet less food may seem like an option, it is not necessarily the amount of kibbles that is the problem. An accelerated devouring of the food we provide may be causing this issue. This quick pace eating is most often the culprit for our pet's regurgitation.
If you're in a hurry and just want to know what the best cat slow feeder is, we commend the PETDURO Slow Feed Bowl. Its bending-road design is the most effective in regard to slowing your cat's eating habits. It also ensures your cat will not harm itself when feeding.
Sale
The solution to this troubling problem is a slow feeder. Below we will discuss the top five slow feeder options available on the market. Each is highly rated by Amazon reviewers and will provide the assistance necessary to help your cat practice better-eating habits so as not to cause a mess or endanger their health.
What is a Slow Feeder?
A slow feeder takes the concept of a food bowl and adds certain impediments to it that cause our pets to "eat around" the obstructions. This addition forces our pet to slow down when eating because they are unable to simply dip their head and chow down. The obstructions added to the food bowl cause our pet to stop and think about how to remove the food from the bowl.
There are a variety of designs available in these slow feeders. This is an important consideration to have when in the market for such a tool. Some of the designs can cause the food to get stuck in the bowl meaning your pet will continue to bat and play with it until your patience is sacrificed.
This list will investigate a variety of slow feeders and discuss the material they're made of, their pattern, and overall effectiveness. We will debate their pros and cons and, in the end, spotlight our winner of the best cat slow feeder on the market.
Benefits of a Slow Feeder
Even if you have owned a cat before, knowing the pace at which our cat should be eating isn't common knowledge. Besides, it's not like we sit and watch as our feline friend digs into their favorite treat. With a slow feeder, we can rest easy knowing the chances of our pet gorging themselves are slim.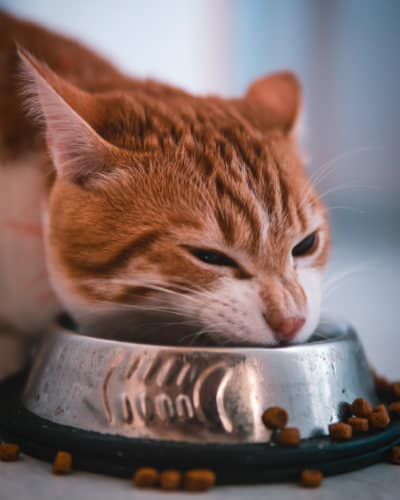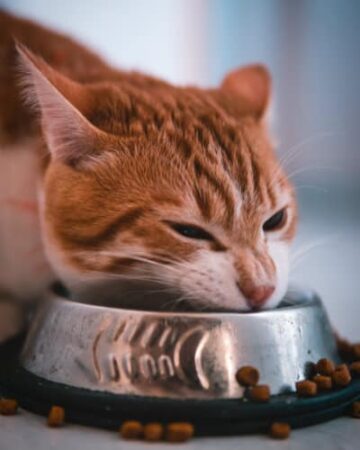 This preventative measure can assist with our cat's health by reducing the risk of bloating and overeating. Moreover, by not overeating, there is less risk of regurgitation. This provides two benefits: our cat doesn't suffer the slings and arrows of illness and our carpets stay mess free.
Imagine the excitement for Thanksgiving dinner. The turkey has just been carved, mashed potatoes placed on the table, and the smell of stuffing wafts through the air. We're so excited we don't pace ourselves, stuffing everything into our mouths at once.
Afterward, our bellies expand, indigestion begins to set in, and we're uncomfortably stuffed. A similar thing can happen to our pets unless we have a way to combat it. A slow feeder will give out pets pause before they consume their food, slowing their pace and helping them practice better-eating habits.
Our Picks for Best Slow Feeders
The Lorde Slow Feeder is a five-star rated cat bowl made of high-quality ceramic. It is non-toxic, odor-free, lead-free, and cadmium-free. It is also dishwasher and microwave safe.
This interactive slow feeder encourages healthy eating habits through vertical protrusions that split your cat's food into smaller portions. The distance between the ridge and valley of these obstructions delays your cat's eating speed. Its smooth design on the surface removes the risk of your pet scratching their mouth or tongue.
The Lorde Slow Feeder's maze shape makes feeding time a fun game your cat plays with the prize at the end being a delicious treat. This game not only reduces the risk of overeating but also helps improves your cat's agility. However, its 1.8-pound weight means you won't have to worry about your cat batting the bowl around the floor or off the counter.
Sale
The PETDURO Slow Feed Bowl is made of high-strength ABS materials guaranteed to bear up to 130 pounds of weight and is durable enough that your pet won't chew it up. This slow feeder's bending road design will slow your pet's eating habits without frustrating them. The PETDURO provides a fair spacing between obstructions that allow your pet access to their food without sacrificing proper sized portions.
This bowl sports a non-stick surface making it easy to clean, and the base is equipped with four rubber feet, meaning it won't slide or force your cat to chase after their bowl. The PETDURO Slow Feed Bowl also has two ergonomic grooves on each side that makes picking up and moving the bowl convenient and easy.
By designing the bottom half wider than the top, PETDURO has ensured their bowl cannot be flipped over by your pet. They have considered all the ways your pet will try to eat at their quickened pace. This bowl has received a five-star rating on Amazon and offers Amazon Prime shipping.
The Neater Pet Brand Slow Feeder is made from an ABS polymer and comes with an optional water bowl when purchasing the larger sized feeder. While the previous bowls use obstructions to slow your pet's feeding pace, the Neater Pet Brand Slow Feeder's design is similar to that of an egg carton and literally portions your cat's food into small piles within the bowl.
This bowl can hold one to six cups of food and divides the food into twenty-five individual servings. This creates a slower pace and reduces gulping. The design sees three inches of space between cups and makes feeding gentler on the gums and mouth of your pet.
The height of the bowl can be extended by five inches when using the Big Bowl base. It can be risen to over seven inches with the snap on leg extensions. However, there is no need to worry about tipping or skidding when using these sturdy additions.
The DotPet Slow Feeder Bowl is made of high-quality, non-toxic and odor-free ceramic. It sports quite a few vertical ridges that gives your cat pause when feeding. The DotPet Slow Feeder is quite similar to the PETDURO in almost every way.
The DotPet has the same maze-shape obstructions that cause your cat to fish their food from the bowl, meaning they must catch their food which strengthens their agility. This makes feeding time a fun game while promoting safe and healthy eating habits.
The DotPet is dishwasher safe making it easy to clean. It will not slip or slide forcing your cat to chase their bowl or knock it off the counter.
Ordermore Slow Feeder Bowl for Small Dogs & Cats
[Slow Eating]: Slow eating bowl promote...
[Excellent Slow Bowl]:Slow feeder bowl made...
[Unique Design] : 1 stainless water bowl and...
[Non-skid]: This slow feeder at the bottom...
[Easy to Clean]: The stainless steel dog bowl...
The OrderMore Slow Feeder Bowl is made of food-grade PP resin. It is non-toxic, durable and comes in two colors: light blue and neon green. Its four anti-slip mats ensure the slow feeder will not slip, slide, or fall off any surface.
This slow feeder uses a simple system to slow down your pet's eating habits. Five vertical impediments circle the center of the bowl and force your cat to eat around them resulting in a slower pace and smaller portions.
What sets this slow feeder apart from the rest is the inclusion of a metal water bowl. Although the Neater Pet Brands Slow Feeder offers a water bowl as an option, you are required to pay more for it. The OderMore Slow Feeder gives you the water bowl without charging more.
This slow feeder is the smallest of the bowls on this list, but it's also the most thoughtful.
The Winner and Our Recommendation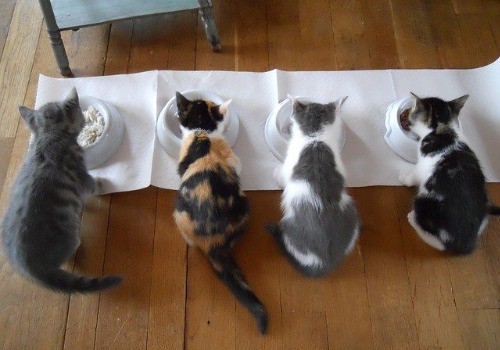 Although seemingly a nuisance at first, the regurgitation of food from your cat can become a larger problem. Overeating, indigestion, and bloat are just a few issues which may arise. Each of the bowls on this list can assist you and your feline friend with these problems.
However, our choice for the best slow feeder goes to the PETDURO Slow Feed Bowl.
Sale
It's bending road design is the most effective in regard to slowing your cat's eating habits. It also ensures your cat will not harm itself when feeding.
With a wider base, the PETDURO has taken the proper precautions to safeguard from the possibility of tipping. What would be the point of having a slow feeder if your cat outsmarts you? Finally, this five-star reviewed slow feeder won't trap any of your cat's food in tight grooves and is made of a sturdy material which cannot be chewed.
The PETDURO Slow Feed Bowl has all the features of every bowl on this list but sets itself apart with an ingenious design of which the other can't compare.
Product data was last updated on 2020-05-30.