For those of us owned by cats, we are dedicated to their well being and keeping our homes clean. Cat litter is often tracked into some of the most bewildering places, despite our best efforts. Multiple cats, or a multiple pet household, means we might be running after them trying to keep it under control. Litter is an equal opportunity mess, and can be found in the most bewildering places, making clean up an exercise in creativity, and possibly a little frustration. A good vacuum will help lessen some of the stress.
If you're in a hurry and just want to know what the best vacuum for cat litter is, we recommend the Bissell handheld.
For many, a vacuum is a major decision. We need one that will do the job quickly and efficiently without clearing out the bank account.
There are two types of vacuums to ponder and decide which best fits your household: the handheld and the upright with various attachments. In this article, we'll look at three selections of each and give our recommendation.
Type: Cordless Handheld Vacuum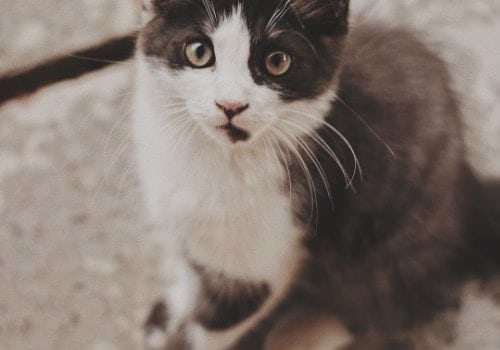 Cordless vacuums are often the more popular choice because of their lightweight and easy handling. Great for quick jobs, especially small messes like cat litter. Simple to operate and being cordless means less hassle for simple jobs. They are perfect for one or two cat households. Handhelds are also wonderful for those with mobility or strength issues, with ease of use, lightweight, and no cords to worry about.
Our choice is the Bissell Pet Hair Eraser Lithium-Ion Cordless Hand Vacuum, listed on Amazon at the time of this writing for $64.99, and eligible for free shipping. The lithium-ion battery lasts longer, on average, comes with several attachments to fit into crevices, work on upholstery, and a rotating brush attachment. Meaning the user will have several options to clean, whether pet hair or scattered cat litter. It also has a 4.5-star rating on Amazon, and while Bissell does offer a manufacturer warranty one is also available through Amazon.
Pros:
Lightweight
Triple filtration
Easy to empty
Long battery charge
Suction power
Attachments
Cons:
Frequent need to empty dirt cup
Frequent washing of filters
Replacing filters for heavy use can become expensive
Second in the lineup is the Homasy Portable Handheld Vacuum, listed on Amazon at the time of this writing for $51.99, and eligible for free shipping. This little winner is Amazon's Choice for the handheld category, and we can see why. It does have a few attachments, is lightweight, great suction, and advertised to have up to thirty minutes of use time by the manufacturer. Unlike the Bissell, it can be used on liquid spills, but only 100 mL, or approximately ½ cup. It has a 4.3-star rating on Amazon, the biggest issue cleaning it out and the filtration making the suction weaken after a few uses.
Pros:
Lightweight
Easy to empty
Great suction
Good battery life
Can be used as a wet vac for small spills
Comes with a few attachments
Cons:
Not usable for pet hair
Doesn't have the rotating brush attachment
May be considered complicated to clean
Rounding off the top three is the Holife Cordless Handheld. Much like the Homasy, the little Holife can also be used to clean small wet spills, approximately twenty-minute battery life, and similar attachments to get into small crevices. It's also the lightest at 4.1 lbs as well as a more ergonomic handle for use. The problem seems to be the complicated cleaning of the filtration system, and the need to do it frequently. It's listed on Amazon for $59.99, making it middle of the pack of these three, and eligible for free shipping. Many of the reviews state the reason for five stars is the excellent customer service, which is a big reason for it making the top three.
Pros:
Great suction
Lightweight
Clean dry and wet spills
Ergonomic
Decent charge time
Great customer service
Cons:
Difficult to clean filters
Basic attachments
While it does advertise able to pick up animal fur, they admit it is only in regards to a pet that sheds lightly
Each of the handheld vacuums listed here will pick up cat litter, and help with smaller chores around the house. For light cleaning or physical issues, the handheld is what you are seeking to clean scattered cat litter around the house.
Type: Bagless Upright Vacuum
For those seeking something a bit more on the heavy duty side, an upright is a good choice. It can get litter that is embedded deep in carpets, and they offer various extensions and attachments to pick up even the most stubborn dirt. Listed below are our top three upright vacuums.
Sale
The Shark TruePet Upright is our choice for uprights, agreeing with Amazon's choice. Of the three, it is the most expensive, selling for $269.95 and eligible for free shipping. Yet most reviews average a 4.5-star rating from verified purchases. With the ability to lift away the canister, it allows the user to get into smaller spaces, and the LED lights are a definite must-have to see if you got it all. The HEPA filter, the TruePet attachment, the powerful suction and lightweight all create a vacuum that will pick up cat litter, dander, fur, and dirt. It also features a switch at your fingertips to go from carpet to hardwood floor and back without having to reach.
Pros:
Lightweight
Detachable canister for easier cleaning
HEPA filter
LED lights
Pet specific attachments
9.5 Amp power
Cons:
Cost
Some complaints stating the vacuum lacks endurance
Heavier at just over 16 lbs.
Does not have a self-cleaning brush roll, meaning you could spend time cleaning the brushes when done.
The Best Seller of all upright vacuums, the Bissell Cleanview is a great choice, with plenty for the price of $89.99 and free shipping. A full pound and a half lighter than the Shark, and it has a multilevel filtration system, with a washable filter. The ease of maintenance makes it easier and cheaper instead of constantly replacing the filter. Automatic cord rewind, the Bissell cleans all floor types and has a Febreeze filter option. With over 2400 reviews, it carries a 4.3-star review average of verified purchases. If you're on a budget, it should definitely be on your list.
Pros:
Affordable
Lightweight
Febreeze filter
Easily removed and washed filter system
Auto cord rewind
Cons:
Only 8 Amp power
Some complaints it lacks endurance
Can clog easily if not careful
A few stated its weight distribution can make it hard to handle
Sale
The Eureka comes with some positives that should be mentioned right away, such as being the lightest of the uprights in our list. At ten pounds, it would be the easiest to use for those that might have physical issues. It also has the largest dirt container, and a washable filter, making it light on the pocketbook as well. Listed on Amazon for $72.99 and eligible for free shipping, it stands solidly in the middle. Reviews give it 4.3 stars, but to be fair, it also currently has less than 100 verified purchase reviews. It does clean all floors and is advertised as great for cleaning up after your pet, including cat litter, dander, and fur.
Pros:
Lightweight
Biggest dust container
Washable filter
Affordable
Cons:
Several complaints it pushed dirt out of the canister
Shorter stretch hose than most uprights
While it does say for pet hair, it does not have a specific pet hair tool
Decide What Will Do the Job Best
We did take a look at quite a few vacuums, and while each has its own positives against the others, our overall favorite is the Bissell handheld for convenience.
Uprights are great for the heavy duty cleaning, but not everyone wants to pull out the bigger vacuums to clean a smaller mess. And if all you need is to get the litter off the floor, then a handheld is exactly what you're seeking.
For those with multiple cats, however, the upright may be the right option to clean, since two cats can drag quite a bit of litter out of the box with multiple uses a day. Plus the level of fur control can be higher, and a larger vacuum necessary.
The best way to figure out what you need is a good look at how you clean, knowing some pets are a little messier than others. Another factor is the area that will need to be cleaned regularly since cat litter can spread to a large area.
And don't forget the purchase price. Though only the Shark is above $100, the others hover in the $50 – $80 range, making them affordable on a tight budget.
Happy cleaning!
Product data was last updated on 2020-11-23.