If you own a cat and plan to take a long car trip, or are moving into a new place and need to transport your kitty, there are some tips you can follow to make the trip go more smoothly. Of course, you'll want to prepare your pet and your self for the journey. Cats are high-strung and need extra care when they experience change.
If you're taking a vacation, perhaps you can hire a friend or ask a trusted family member to house sit or at least feed and hang out with your cat. Cats thrive on routine and feel safest when they are at home. So, if you can travel and leave the cat at home, that's probably best.
However, if you have to travel and have no one to take care of your cat, you still have options. For instance, there are numerous places with licensed and certified caretakers for pets. Even if your cat is a bit more high-maintenance, with a medical condition that requires treatment, you may be able to leave him or her at a vet-clinic.
If all other options are exhausted, you may board your cat. We recommend visiting the facility ahead of time with your feline to see how he or she interacts with staff and other animals. And, always, always check references!
Preparing for Travel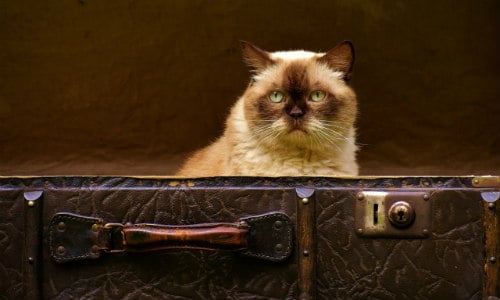 Before you even begin to make your plans, we recommend ruling out any existing health conditions in your cat with a wellness check at the Vet. A healthy cat will likely cause fewer issues when traveling, which will make you feel better as well. At the animal clinic, you can also ask the Vet for suggestions regarding your upcoming travels.
After a clean bill of health, we also recommend bringing a copy of your cat's medical records and any other pertinent information when you travel. Include notes from the recent exam, lab results (if applicable), and the names and doses of all medications and supplements your cat needs. If you let them know ahead of time, the vet-clinic may provide the copies for you.
Did you know that there are apps available to let you know about vet-clinics along the road while you travel? You may also want to check with your Vet's office to see if they have apps or other resources. This will be especially helpful if you have a cat that has a chronic health issue.
As another preventative measure, you may want to check ahead of time for vet-clinics you may encounter on the road. When visiting an animal clinic other than your own, the medical record copies you brought along will make visiting a different animal clinic easier.
If your cat does need prescriptions or special food, be sure to stock up on the supplies before you head out. Finding an open vet-clinic that has the medicines, supplements, and supplies your cat needs readily available can be a challenge. Experts recommend bringing enough supplies for two weeks at a minimum.
Bestseller
Safety and Comfort
There are many factors to keep in mind while traveling a long distance with your cat; however, safety and comfort are probably the two most important ones! A cat who feels safe will feel less anxiety, and that should ease your stress as well.
Letting your cat roam loosely in your car while you drive will provide neither safety nor comfort. Your cat may want to sit in your lap, which is highly dangerous, or on the contrary, he or she might become anxious and attack you. Either way, you are putting yourself and your cat at risk for a car accident and injury!
Buy a Pet Carrier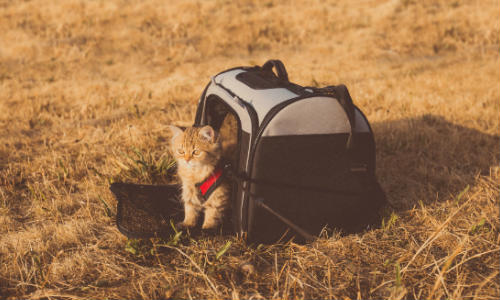 You can find any number of pet carriers in stores or online that will keep your cat safe and comfortable. We recommend that you choose a carrier that's large enough for him or her to stand up and stretch out in, and they should also be able to turn around and nest.
If you're taking a trip that's less than six hours, the cat should be all right in the carrier the entire trip. If you're taking a trip that's longer than six hours, or over several days, you can stop at a rest area to let your cat out (always on a leash!) to drink water, walk around, and use the litter box. (More on that later.)
Before you travel, introduce your cat to the carrier. Bring it into the house, set it on the floor and open the door so your cat can venture in and out. If your cat is suspicious, you may line the carrier with their favorite blanket and/or set their food bowl inside as well. Later, when your cat must go in, the carrier should seem less like a cage and more like a second home.
When you're ready for the day(s) of travel, be sure to make the carrier as comfortable as possible. Include your cat's favorite blanket, and line the carrier with thick padding that will cover and stay put across the entire floor. And plan to use a seatbelt to secure the carrier in the back seat.
Bestseller
Lowering Stress
If you have a cat that becomes so anxious during car rides that he or she howls incessantly or is jumpy, you may ask your Vet for a sedative. Some of you may be anti-drug so for a milder option, liquid Benadryl may work.
If you know your cat tends to vomit on car rides, ask your Veterinarian for anti-nausea medicine. Also, to decrease the chances of your cat vomiting in the car, feed them before bed, and avoid feeding them the morning of the trip. They will appreciate a clean, dry carrier as much as you will.
And when an unexpected issue comes up, sometimes you can get by with an over the counter solution. Read the instructions carefully and if possible, call your Vet. Always provide plenty of clean water.
Stopping to Rest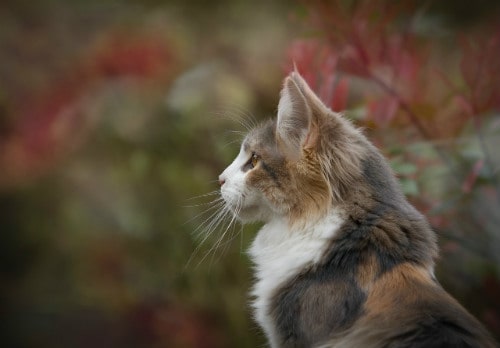 If and when you stop at a rest area, let your cat out as well. We highly recommend having him or her wear a collar with an ID tag that includes your name and phone number. Also, keep the cat on a leash.
Your cat may be anxious or frightened from the long trip and may want to bolt! An unleased cat could disappear forever, or get hit by a car. At the very least, if you keep your cat on a leash, you can boost their safety. (If you can fit your cat into a harness, you double your protection.)
On shorter trips, you may make stops at the rest area with your cat. However, for longer trips, we recommend you purchase a "travel" litter box, and just like the carrier, get your cat acquainted with it before you travel.
A good travel litter box should be collapsible, easy to clean, and waterproof. If you are so inclined, you may purchase a disposable litter box. These are trays for one-time use and not too expensive. The litter box should be small enough that it fits inside the carrier, but large enough for your cat to move around and eliminate in.
Weather Conditions
First and foremost, if you are traveling during the heat of summer, we highly recommend you have a working air conditioner in your car. Cats are unable to sweat enough to stay hydrated in hot weather. That said, we suggest packing a cooler with ice packs and frozen bottles of water as well.
If the air conditioning in your car were to fail, and you were unable to turn back, you could take one or two of the frozen water bottles and place them in the carrier with your cat. Be sure to wrap them in cloth first to protect your cat's coat.
Because your cat carrier may jostle around in the car, providing a water bowl inside of it is not recommended. The water will splash around or spill, leaving a wet and thirsty cat. Prepare to stop at a rest area where you can give your cat water in a bowl.
Bestseller
If you know your cat is finicky about the water he or she drinks, you may want to bring along a jug of water from the same source, they drink from at home. This way, you have a better chance that your cat will drink it and stay hydrated. If you are traveling during the cold winter months, bring extra blankets for you and your cat.
Staying Overnight
If you can stay with a friend or family member, you and your cat may feel less stressed, especially if you can sleep in the same room. Bring your cat's favorite bed or blanket, i.e., something that smells like home. And if you have no bed for your cat, you can set up one in a bathtub with blankets and pillows.
If you have an extended trip and need to stay overnight at a hotel or even an Airbnb, check ahead of time to see if your cat is allowed. If you can, get permission in writing, so there is no confusion. And since you have a carrier, that should ease the mind of the hotel manager or homeowner.
Before you let your cat out of the carrier wherever you choose to stay, do a full-on safety check of the entire premises. Look for escape routes, frayed wires, loose ingestible items, and any other hazard. Also, check drawers or cupboards for mouse traps, rat poison, or other potential poisons.
A New Home
If you have traveled with your cat and are moving into an entirely new place, your cat's stress level may be higher than usual. So, at first, keep them confined to their carrier, or at the very least, a quiet room away from the chaos of unpacking and moving furniture. Provide them with plenty of reminders, toys, blankets, a bed, of your old place.
While you're getting your new home in order, be sure to check in on and visit with your cat in the room to see how he or she is doing. Play with them, cuddle with them, and assess how he or she is adjusting to the new surroundings. We recommend you allow them to move at their own pace, but you know your pet.
A Few Last Words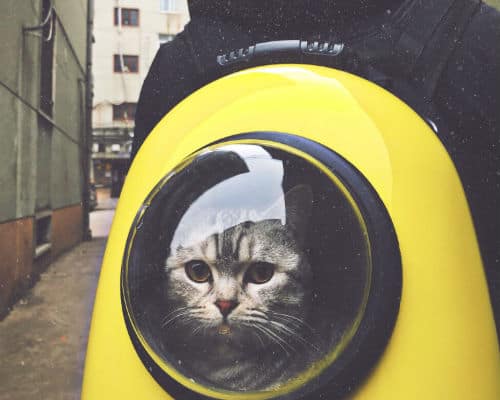 To secure your peace of mind, and to keep your cat as calm as possible, when you need to travel, think ahead. You may encounter challenges and surprises along the way; however, with the tips we've provided, you may save yourself some stress. Happy trails!
Product data was last updated on 2020-07-04.