If you have an indoor cat and wish you could bring them outside, then a cat harness may be just the tool you need. For too long, society has dictated that it's normal to walk your dog, but it's strange to walk your cat. Truth be told, some cats enjoy being walked just as much as dogs.
Many cat owners keep their pet indoors for fear of them getting into fights with strays. If your cat is declawed, they suffer an even greater disadvantage and risk when outdoors. To belay this fear and keep your cat safe, a cat harness is a great choice for allowing your cat some outdoor fun.
Though we are all familiar with the excitable tail wagging a dog enacts when they know it's time for a walk, a cat's life can be enriched in the same way by taking them outside and allowing them to explore the world. The easiest and safest way to do so is with the help of a cat harness.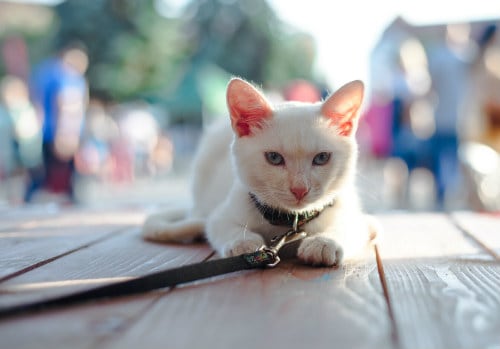 When equipping your feline friend with a harness, you should follow the same rules as a collar. You should be able to fit two fingers comfortably between your cat's neck and the collar.
If you're in a hurry and just want to know what the best cat harness is, we recommend the YujueShop Cat Harness. It comes in a variety of colors, materials, and sizes, ensuring you will find the perfect combination for your cat's style and figure.
[amazon box="B07R4ZWQBC" template="table"]
Below we will look at the variety of options available for your cat's harness and discuss the top five by taking a look at the material they're made of, their rating on Amazon, and ways they can keep your cat safe while on that fun and adventurous walk.
What is a Cat Harness?
Cat harnesses are similar to those we see for dogs. They are often made of a soft mesh webbing or nylon for your cat's comfort and cover the top half of their body to combat against any pulling or wriggling your cat may commit to when distracted by critters out in the wild. The design of the harnesses keeps your cat's comfort in mind by forming perfectly around their body so as not to choke or cause joint pain when the leash grows taught.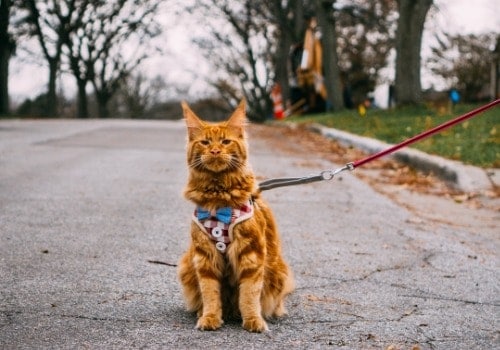 Not everyone is a dog person but would still like to take their pet outside for a walk. The cat harness was created for those of us who wish to venture outdoors and bring our closest friend with us. Why should dogs be the only pets having fun spending time with their owner, breathing in the fresh air, and mixing it up with nature?
If you have ever sat on your couch and watched your cat darting all around the house, attacking dangling strings or batting around their toys, then you know cats can be just as active as dogs. With a cat harness, we can provide them with more space to run around and play. We can open up a new world to our feline friends and provide them with a joy that not many cats get to feel.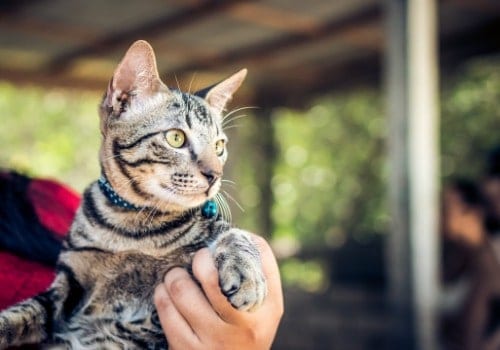 Benefits of a Cat Harness
The most obvious benefit to owning a cat harness is the ability to bond with your cat while taking a long walk. Cats never lose their wild instinct to hunt, and by taking them outside, you will allow them to act upon this instinct to lurk in the grass and chase after bugs safely. Not to mention, you will be providing them with exercise, which may add years to their and your life.
Moreover, with the growing number of support animals making their way to the outside world, a cat harness will allow any support cat to roam through the big world with you without fear of them running away or getting into danger. As we said before, you and your cat will bond over the adventures you take, and the harness will allow you to go anywhere safely.
For those of us with unruly cats, a cat harness may be the way to gain back control. Along with taking your cat for a walk, the harness can be used to show dominance. While we are not suggesting you violently pull your cat's leash or cause harm to your pet, a harness can assist you when your cat seems to be possessed and needs a light tug to remind them you are in control.
Our Picks for Best Cat Harnesses
[amazon box="B07QRZW1Q8″ template="horizontal"]
The Pupteck Cat Harness seems like a simple system with a collar around the neck and another around the waist of your cat. However, upon taking a closer look, you will notice the special figure-eight design resting at the top of your cat's back. This design connects the two collars and provides ample movement and comfort for your feline friend without pulling or choking.
This adjustable harness runs from fifteen to twenty-six inches and can fit young kittens or adult cats. Its fashionable patterns keep your cat looking stylish while out on that much-needed walk. Such patterns include a red and black checkered print as well as a pink and blue pastel print.
The Puptek Cat Harness promotes an escape-proof design ensuring your cat will not slip free while strolling through the streets. Moreover, when leaving the harness on after your walk, the harness makes sure your pet will not slip free when they need to be calmed while acting unruly. The soft fabric material provides comfort and safety, ensuring your cat won't try to remove the harness.
[amazon box="B07KKC2R9V" template="horizontal"]
The Celltek Escape Proof Cat Harness is similar to the Puptek in so much as it provides a collar around the neck and another around the back of your cat. However, instead of the figure-eight design, the Celltek uses an H-style harness connecting the collars at two straps, one which runs along your cat's spine while the other runs below their belly. The harness is adjustable, so you won't need to worry about choking or causing harm to your pet.
Additionally, the Celltek Escape Proof Cat Harness is made of soft nylon for your cat's comfort. The breathable material makes their harness perfect for year-round use, and Celltek ensures it will never strain your cat's neck. The material is also reflective, allowing you to take night strolls while keeping your cat safe.
[amazon box="B07J4W6KW2″ template="horizontal"]
The Voyager Soft Harness removes itself from the collar design of our previous entries. Instead, this harness looks more like a vest for your cat. Its plush, no-pull design offers stylishly soft fabric perfect for your cat's comfort.
If you are worried this vest will be a hassle to put on your cat, don't fret. The Voyager Soft Harness sports multiple adjustments, making it a breeze to put on. Moreover, its vest-like design won't choke or squeeze your cat and provides warmth for your pet in the colder seasons.
The Voyager Soft Harness comes in a variety of colors, materials, and sizes, ensuring you will find the perfect combination for your cat's style and figure. This harness has received a 4.5-star review on Amazon and offers Amazon Prime shipping.
[amazon box="B07R4ZWQBC" template="horizontal"]
The YujueShop Cat Harness and Leash is an adjustable harness that makes use of Velcro for quick alterations needing to be done on the fly. Its light mesh fabric is super breathable and ensures your cat won't feel as if it's wearing a wool sweater in the summer months. Like the Voyager, the YujueShop design is a vest instead of dual collars.
However, unlike the Voyager, this harness provides plastic clips on the back to easily put the harness on and off your pet. The reflective strip on the chest and edge provides safety and makes sure your cat will be noticed in low light or at night.
The YujueShop Cat Harness has a delicate lining to reduce friction. It has been designed with four pulling stress points, attachment points with reinforced webbing, and four points of force-reduced action pressure to prevent choking. Its durable fabric is machine washable and is guaranteed to keep your cat safe and comfortable.
[amazon box="B07NQ35VDW" template="horizontal"]
The Eagloo Cat Harness is an escape-proof harness made of lightweight, soft, and breathable air-mesh fabric guaranteeing your pet will stay comfortable no matter the season. Its soft edge and resilient cushioning prevent choking and injury. With two quick snap buckles and fully adjustable straps, this harness is easy to put on and take off and provides a custom fit for your kitty.
The reflective stripe ensures your cat will be noticed at night. The durable metal ring gives you full control over your pet's movement by placing pressure on its chest rather than around its throat. Eagloo provides a 100% quality warranty and offers a replacement or full refund should you encounter any problems with this product.
The Winner and Our Recommendation
While each and every cat harness on this list is a valuable choice for your pet, our hands-down winner is the YujueShop Cat Harness.
[amazon box="B07R4ZWQBC" template="horizontal"]
The vest-like design provides ample safety for your cat by removing the possibility of choking. Its clip and Velcro options make putting on and taking off the harness a breeze.
With its reflective strips, you can take your cat out for a walk anytime and know you both will be safe. The YujueShop Cat Harness offers a variety of colors and sizes to suit your cat's style and build. Finally, its lightweight mesh will keep your cat cool and comfortable while on your bonding stroll through the outdoors.
Taking a walk with your pet is no longer just for the dogs. With a suitable cat harness, you can enrich your cat's life and help keep them healthy by going for regular walks and allowing them to enact those basic instincts which make them unique.
QUOTE:
"In ancient times cats were worshipped as gods; they have not forgotten this."
-- Terry Pratchett