Possibly the most dreaded part of caring for our cat is cleaning their ghastly litter box. A DuraScoop Jumbo Cat Litter Scoop can make this chore a little easier and move along much faster.
All too often we try to find ways to avoid digging through our cat's soiled litter, but it is something that must be done if we wish to have a clean home and avoid spreading any possible diseases which live in our cat's feces.
When it's time to clean out our cat's litter box, we want a scooper that isn't flimsy, won't break, and can carry the load we need to remove. Below we will discuss the top five cat scoops for this most untoward of daily chores. We will investigate each products size, material, and rating as well as overall design and effectiveness.
Every item on this list is highly rated by customers so you can rest assured you will receive one of the most useful cat-scoops on the market. This ensures whichever product you choose will be right for the job and won't leave you regretting your purchase. These scoops are durable with deep shovels and make cleaning your cat's mess a simpler process.
What is a Cat Scoop?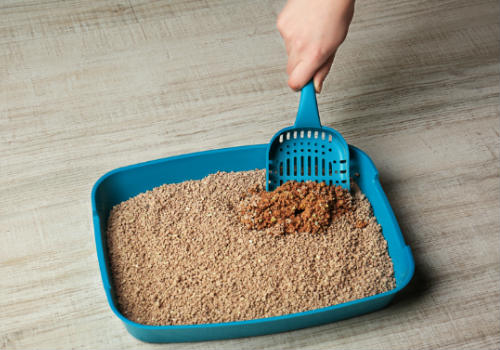 Our civilized society has found ways of making the dirtier side of life less noticeable. We have created scented trash bags, aloe-infused dish soap, and cat scoops to assist with cleaning the dreaded litter box. Cat scoops are small sifting shovels that allow us to rid ourselves of our cat's mess and odor after nature calls.
Cat scoops are made from a variety of materials ranging from flimsy plastic to sturdy metal. Some have rubber grips while others focus on non-stick shovels. You can purchase them in multipacks or singles.
Like most things, the cheaper the item the more likely it is to be faulty or break. The same goes for the cat scoop. Each product on this list hovers around the $10 mark, but we must not forget the quality of the product we are receiving.
Price is but a trivial matter when it comes to the cleanliness and safety of our cat's litter box, and more importantly, our home. This common cat product is precisely the tool we need to provide the necessary care after nature calls. Regardless of whether you need a small or large scoop, there is an option available for you on this list.
Benefits of a Cat Scoop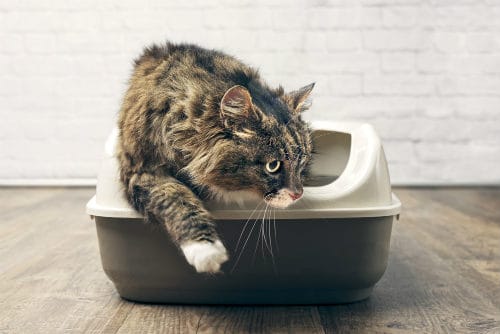 There is, of course, the obvious benefit of not having to use your hands. However, owning a cat scoop provides you with more than less mess. By removing you from direct contact, owning a cat scoop reduces the risk of contracting and spreading diseases through contact with your cat's feces.
This may seem like a trivial detail, seeing as we live in a civilized society, but this is one reason the cat scoop was invented in the first place. Additionally, the cat scoop prevents the further spread of litter. All cat owners deal with the litter our cats flick outside of their box, so it's important to have a scoop to sift the litter free rather than carrying it with you when disposing of your cat's refuse.
Along the same lines, cat scoops are beneficial to our toilets. By sifting the litter through the scoop, we don't have to worry about clogging the pipes with litter that clumps when wet. Cat scoops are way more than the small tool we keep beneath the bathroom sink or hung on the laundry room wall.
Our Picks for Best Cat Scoops
The UEETEK Cat Litter Scoop is crafted from aluminum allow making it sturdy and durable for extended use. The rubber handle fits comfortably in your hand without putting pressure on your fingers. Its ergonomic design ensures proper maneuvering for versatile action.
Above all the UEETEK Cat Litter Scoop is practical. It can sift through any litter type and is guaranteed to keep your home free of unwanted odors. It measures 14 inches in length, 5.5 inches in width, and 1.6 inches in height, and its deep shovel can handle any job.
Overall, you can trust the UEETEK Cat Litter Scoop is high quality and won't bend or break like flimsier cat scoops made of thin plastic.
The DuraScoop Jumbo Cat Litter Scoop is an end-to-end aluminum litter scoop. This means it won't rust and is sturdy and durable for extended use. It has a mirror finish rather than being plated, coated, or painted, so the color will not chip or rub off.
The soft, ergonomic handle is balanced with its center of gravity at your wrist. The handle comes in a variety of colors including mint green, watermelon, pink, and sky blue. Its enclosed sides are designed to minimize scatter of dirty litter when sifting.
The DuraScoop Jumbo Cat Litter Scoop has the deepest shovel of any product on this list. The deeper shovel provided by the DuraScoop allows for larger scoops to rid yourself of your cat's unmentionables more quickly. This product measures 12.7 inches long, 5.9 inches wide, and 2.6 inches high, meaning you have almost a full inch more scooping power than most of the other products on this list.
The iPrimio Cat Litter Scooper is made of strong cast aluminum for durability. Its non-stick coating assists with feces sticking to the shovel. It provides a handle with an ergonomic grip making sure you will suffer minimal shaking for a clean pass through the litter in your cat's box.
The iPrimio Cat Litter Scooper is designed by cat lovers. Their care and consideration is what makes this product the perfect size for fitting into the corners of your cat's box and carrying larger scoops. The iPrimio measures 13.2 inches in length, 5 inches in width, and 1.8 inches in height.
Similar to the DuraScoop, the iPrimio Cat Litter Scooper is easy to clean and comes with a plastic hanger which uses 3M tape to stick to the wall. However, unlike the DuraScoop or the UEETEK, the iPrimio uses vertical slats for sifting the litter. The spacing design allows litter to sift faster and get the job done more quickly.
The nukka Cat Scoop is formed from a light-weight aluminum making it long lasting. With its deep grooves and front teeth, the nukka Cat Scoop provides good leverage ensuring you collect everything to keep your cat's private space tidy. The non-stick coating makes this product easy to clean with just hot water and dish soap.
nukka even boasts about its two-inch shovel making it just as deep as the DuraScoop. It has an ergonomic handle for smoother cleaning and a soft touch. Finally, the nukka Cat Scoop comes with a storage hook for hanging on the wall ensuring you will never wonder where your cat scoop ran off to again.
The Winner and Our Recommendation
It is easy to see why a cat scoop is so important to the care we provide our cats. These often-overlooked tools keep us from spreading disease and other illnesses which may be lurking in our cat's feces. While each of these products is made of sturdy aluminum and come with five-star ratings, our recommendation and the winner of top cat scoop belongs to the DuraScoop Jumbo Cat Litter Scoop.
With its one-piece end-to-end and rust-resistant aluminum, the DuraScoop is sure to last you a long time no matter how large the job. The soft, non-slip rubber handle provides added security when sifting and carrying your cat's business. Its large size is great for removing loads more quickly but remains lightweight meaning you don't need to worry about the strain on your hands or wrist.
Enough cannot be said for the end-to-end aluminum. Other products on this list suffer a bit from attaching two pieces together at the handle. This can cause breaking through over use.
The DuraScoop Jumbo Cat Litter Scoop won't break, bend, or flick any of your cat's feces at you when scooping. It scrapes at the bottom and sides of the box assuring you will collect the entire mess. It stays strong and lasts long.
Finally, the DuraScoop Jumbo Cat Litter Scoop provides variety. Unlike the others which come in one color, the DuraScoop offers several different colors allowing you to customize your personal scoop with your favorite color. These specifics are what help make the DuraScoop Jumbo Cat Litter Scoop our recommended top choice.
No matter the scoop you choose, you can expect to receive a strong assistant for that one job we all wish we could avoid. Overall, you will rest easy knowing you have rid yourself of your cat's pesky unmentionables and are keeping your home smelling clean as it deserves to be.
Product data was last updated on 2023-08-29.
QUOTE:
"In ancient times cats were worshipped as gods; they have not forgotten this."
-- Terry Pratchett