When it comes to providing for our cat, Pet Smile Professional Pet Toothpaste should be at the top of every list.
Sure, when we think of caring for our cat, we think of feeding them, giving them water, and offering as much love as we can muster, but providing strict oral hygiene can save our feline friend from bad breath, plaque, and various feline dental diseases.
Below, we discuss the top five cat toothpaste products to assist with ridding cats of bad harmful bacteria which may reside in their mouth. These products are all highly rated and all are safe for your pet to swallow. Some even come with a poultry or malt flavor ensuring your cat will love to have their teeth cleaned.
What Is Cat Toothpaste?
Cat toothpaste is exactly as it sounds. Although not the same as the toothpaste we purchase for ourselves, cat toothpaste can be found in a variety of brands with different ingredients to combat bad breath, whiten teeth, and protect against oral bacteria.
However, they don't make use of the same ingredients such as fluoride or strong flavors of cinnamon or mint. Such inclusion can be uncomfortable or even deadly to cats. Fluoride is toxic to cats and should be avoided entirely.
Most cat toothpaste provides a chicken or other poultry flavor. This makes it easier when it's time for that routine brushing. You can use a brush or simply place a little toothpaste on your finger and rub it along your cat's teeth.
Benefits of Cat Toothpaste
Each of these products has an enzymatic solution which battles bad breath and protects your cat against harmful bacterial growth. There are several dental diseases cats can suffer. The three most common are gingivitis, periodontitis, and tooth resorption.
Gingivitis causes the gums around your cat's teeth to swell. They become red and can be painful. This can happen when your cat begins to build up plaque where bacteria can grow. According to the Cornell Feline Health Center, the bacteria housed in this plaque can be beneficial to cats with good oral hygiene but becomes harmful if not regularly removed.
Periodontitis is the result of gingivitis not being kept in check and is the destruction of tissues holding your cat's teeth in place. At this point, the condition cannot be reversed, and your cat may begin to lose their teeth.
Finally, tooth resorption is the most common cause of tooth loss in cats. The condition destroys your cat's teeth from the inside out. However, the reason for this condition is unknown.
Our Picks for Best Cat Toothpastes
Enzadent is a non-foaming toothpaste which contains a triple enzyme formula made to help remove plaque and any food stuck in your cat's teeth. They suggest brushing daily and starting off slowly by brushing only a few teeth to allow your cat to adjust to this new routine. As your cat starts to take to the brushing, increase the number of teeth you brush.
Enzadent is guaranteed to polish your cat's teeth and promote healthy gums saving them from tooth decay and dental diseases. By brushing regularly, you can rest assured your cat's breath will be clean and free of any foul odor. Finally, Enzadent provides you with the peace of mind that all the ingredients used in their product are safe for your pet.
This product comes in a 3.2-ounce tube, and with its poultry flavor, is guaranteed to make your cat's brushing routine a pleasant experience.
Pet Smile Professional Pet Toothpaste is the only toothpaste awarded by the Veterinary Oral Health Council. This brand provides the ingredient Calprox which is clinically proven to prevent plaque, battle bacteria, dampen that foul breath and whiten your cat's teeth.
This product should be used two or three times a day and is a breeze. Simply place a dab of Pet Smile's toothpaste on your finger and brush it along your cat's teeth to promote healthy and clean gums. Much like our previous entry, Pet Smile Professional Pet Toothpaste comes in a chicken flavor your cat is sure to love.
Pet Smile guarantees their product is safe for your cat as it contains zero fluoride, parabens, silica, sulfates, or dyes, and they provide you with a 4.5-ounce tube.
C.E.T. Toothpaste - 70 g - Malt
Enzymatic toothpaste. Dual enzyme system...
Dual enzyme system formulated for dogs and...
Provides natural antibacterial action.
Palatable and formulated to be safe when...
Virbac CET Toothpaste sets itself apart by stating it prevents periodontal disease and reminds us this disease affects eighty-five percent of dogs and cats. They are a tenured brand on the market and the number one recommended dental brand by veterinary professionals.
Virbac CET Toothpaste also comes in chews that are plant-based, non-GMO corn, gluten-free, and easily digestible. However, when using the paste, Virbac suggests using a toothbrush rather than just your finger. Similar to the aforementioned products, CET toothpaste is a non-foaming agent and safe for your pet to swallow.
Virbac CET Toothpaste comes in a 2.5-ounce tube. The product comes in a variety of flavors including poultry and vanilla-mint.
Sale
The Petrodex Dental Kit for Cats comes with a hydrogen peroxide-producing enzymatic formula to assist with all you cat's oral hygiene needs including reducing plaque and tartar. Now, we're cheating here a bit as this kit comes equipped with a toothbrush, so it isn't simply a toothpaste. Its inclusion is important as the included brush was developed by a veterinarian using ultra-soft bristles and keeping the design of your cat's mouth in mind.
Moreover, the kit includes a finger brush allowing you to massage your cat's gums while brushing to provide a relaxing routine every time. The toothpaste has an enjoyable malt flavor and, like the rest, doesn't foam meaning there's no need to rinse.
The Petrodex Dental Kit for Cats comes in a 2.5-ounce tube.
Sale
Oxyfresh Pet Toothpaste is a different kind of product. Not only does it allow for finger brushing, protect your cat from plaque, and freshen its breath but it also contains aloe vera which can soothe and help heal oral wounds your cat may already have. Finally, unlike the other products, Oxyfresh is odorless and tasteless which makes it perfect for those fussy pets who don't succumb to the poultry flavor of other brands.
However, don't be fooled. Although Oxyfresh Pet Toothpaste sets itself apart from the others with its addition of aloe vera, it doesn't sacrifice any benefits you expect from a toothpaste. Oxyfresh cleans teeth, soothes your cat's gums, and freshens their breath.
Oxyfresh reduces plaque and tartar without stinging or burning your cat's mouth. It includes no mint or clove oil and is 100% non-toxic. This product comes in a 7.2-ounce tube.
Our Top Pick
The winner and our recommendation for the top cat toothpaste available is the Pet Smile Professional Pet Toothpaste.
As the only toothpaste on the list awarded by the Veterinary Oral Health Council, you can rest assured you are using a trusted product for not only your cat but your best friend. Most of all, Pet Smile Professional Pet Toothpaste is clinically proven to protect your cat from plaque which can cause gingivitis, periodontitis, and a series of other feline dental diseases.
Pet Professional's 5-star rating provides you with the peace of mind that you are not wasting your money. Most of all, Pet Professional Pet Toothpaste comes in a larger 4.5-ounce tube as opposed to the more likely 2.5-ounce tube offered by the other brands.
For me, the little things matter, and the specific identification of chicken flavor rather than the vague "poultry" flavor shows Pet Professional Pet Toothpaste isn't trying to hide anything.
Finally, Pet Professional Pet Toothpaste allows you to use your finger for brushing as opposed to a toothbrush. Again, it's the little things that make this product worth it. By using your finger instead of a brush, you can rest easy knowing you are not causing any damage with hard bristles or brushing too hard.
Final Thoughts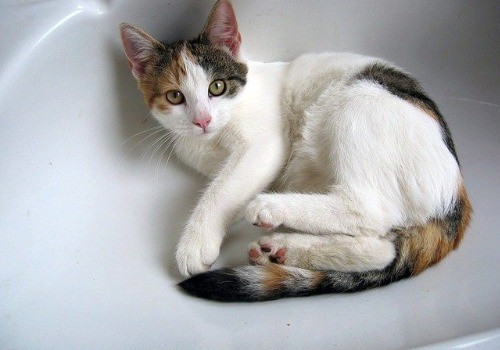 We may not talk about it much, but oral hygiene is an important part of our cat's health. The build-up of plaque can lead to such dental diseases as gingivitis, periodontitis, and tooth resorption. If left untreated, these diseases can spread to other parts of your cat's body including their lungs and heart.
No matter the decision you make when choosing a toothpaste for your cat, it is important to still make the decision to do so. Each of the products listed is safe and will provide the care your cat needs for a healthy and satisfying mouth.
Product data was last updated on 2019-10-21.