Do you find short-legged cats (aka low-riders) fascinating and adorable? Cats with short legs are becoming increasingly popular due to their unique appearance and charming personalities.
These distinct felines, despite their atypical stature, share the same playfulness, affection, and curiosity as other cat breeds.
In this article, we'll cover 5 breeds of cats with short legs, which is sure to put a smile on your face.
Munchkin Cats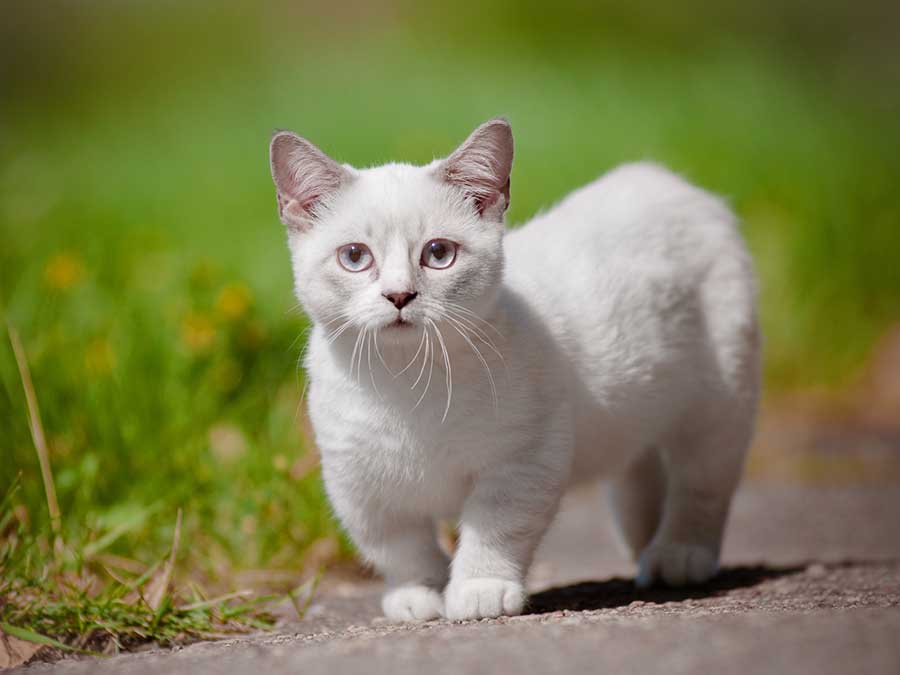 Munchkin cats, often referred to as the "Dachshund of the cat world," have gained popularity due to their unusual and endearing appearance.
Their short legs are the result of a naturally occurring genetic mutation, which does not generally affect their mobility or overall health.
These small to medium-sized cats are known for their affectionate nature, joyful energy, and curious demeanor.
Munchkins are intelligent and sociable cats, making them excellent companions for families, couples, and singles alike.
They have a playful spirit and love engaging in interactive games with their human companions.
However, they can also spend hours sunbathing in a cozy spot or watching birds through a window.
Adaptable to various environments and living situations, Munchkins are known for their ability to bond closely with their owners and even get along with other pets.
Despite their short legs, Munchkins are agile and fast, capable of running and jumping like any other cat.
While some might be concerned about potential health issues caused by their short stature, Munchkins have not been found to suffer any significant problems directly related to their leg length.
Nevertheless, it is crucial to adopt from reputable breeders and provide proper care, including regular checkups, to ensure a healthy and happy life for these unique felines.
Skookum Cats
Skookum Cat (Video)
Skookums, the delightful crossbreed between Munchkin and LaPerm cats, are known for their short legs and enchanting curly coats.
This combination results in a unique and charming cat breed that is both visually striking and warm-hearted. Affectionate and sociable, Skookums enjoy spending quality time with their humans and thrive in households with plenty of social interaction.
The Skookum's personality is an appealing blend of the parent breeds.
They inherit the Munchkin's playful, adventurous spirit and the LaPerm's gentle, friendly nature. This makes Skookums adaptable to various home environments, capable of creating strong bonds with their family members, and getting along amicably with other pets and children.
In terms of care, a Skookum's coat requires regular brushing to keep it tangle-free and maintain its signature curls.
As with any cat, providing routine veterinary care, a nutritious diet, and engaging playtime will ensure that Skookums have a healthy and fulfilling life, bringing joy and companionship to their human families.
Napoleon Cats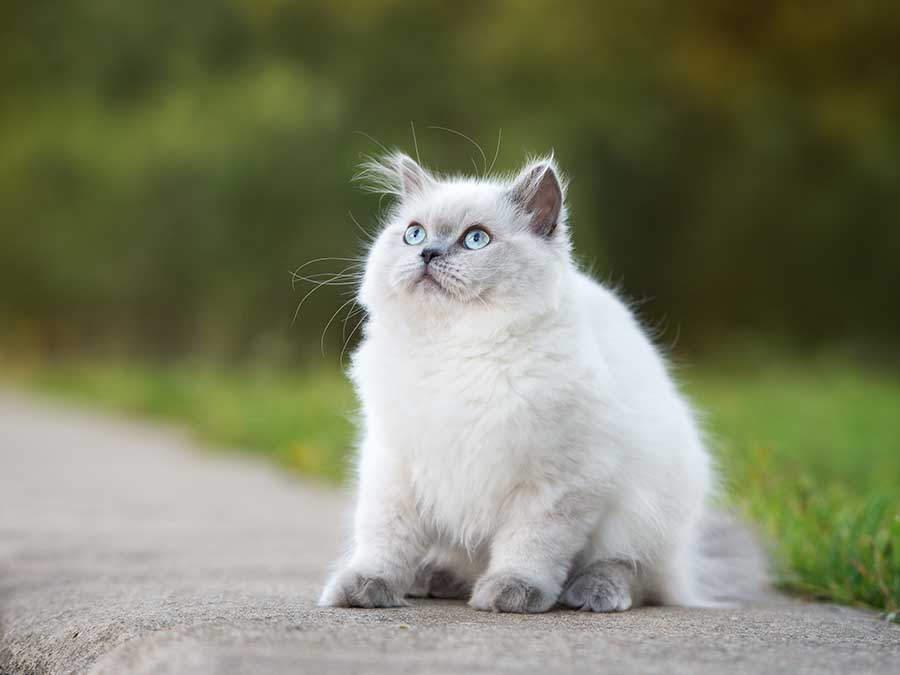 Napoleon cats, also called Minuets, are a captivating mix of Munchkin and Persian breeds. Boasting the short legs of Munchkins and the luxurious long coat of Persians, this breed has become increasingly popular due to its endearing, doll-like appearance and gentle demeanor.
With a friendly and easygoing disposition, Napoleon cats make wonderful family pets.
Their serene, affectionate nature is well-suited for a range of households and lifestyles. They adore cuddling with their human companions and have an innate ability to get along with other pets and children. Napoleons are also alert and playful, showcasing their Munchkin parent's lively attitude.
Due to their beautiful long coat, Napoleons need routine grooming to avoid tangles and mats.
Regular brushing, dental care, and general hygiene should be a part of their care regimen. Just like other breeds, providing a balanced diet, engaging play activities, and routine veterinary care will ensure Napoleon cats lead a happy, healthy life, bringing delight and companionship to their human families.
Lambkin Cats
Lambkin Cat (Video)
Lambkin cats are an adorable and unique breed resulting from the cross between Munchkin and Selkirk Rex cats.
This fascinating combination gives them their signature short legs along with a curly, textured coat, making them a charming and attention-grabbing feline. Apart from their distinctive appearance, Lambkin cats are known for their affectionate, outgoing, and loving personality.
These delightful cats are adaptable to various living situations, making them great companions for both families and individuals. Lambkins are sociable creatures, forming deep bonds with their human companions, and they generally mix well with other pets in the household. Their playful nature, inherited from their Munchkin ancestry, adds an extra touch of liveliness to their character, endearing them to people of all ages.
When it comes to grooming and care, Lambkins' unique coats require regular attention, including routine brushing to prevent matting and maintain the curly appearance.
As with any cat breed, providing proper nutrition, regular veterinary checkups, and engaging in playtime are essential to ensure a happy and healthy life for these irresistibly sweet cats.
Bambino Cats
Bambino Cat (Video)
Bambino cats are a truly remarkable breed, with the combination of short legs inherited from their Munchkin ancestry and hairless appearance from their Sphynx lineage. This unique look sets them apart from other breeds, drawing interest from cat enthusiasts around the world. Bambinos are not only visually striking; they are known for their friendly nature, intelligence, and adaptability.
These curious and affectionate felines are fantastic companions for families and individuals, as they quickly bond with their human caretakers and usually get along well with other pets.
Bambinos are attention seekers and thrive in environments that provide ample social interaction and love. Their upbringing in warm, nurturing environments contributes to their sociable and trusting attitude.
Given their hairless nature, Bambinos require specific care in terms of grooming. Regular baths are essential to remove any oils that can accumulate on their skin, and it's important to protect them from sunburn and temperature changes.
Providing a balanced diet, interactive play sessions, and regular veterinary care will help ensure a healthy, joyful life for these intriguing and captivating cats.
Conclusion
Short-legged cats are not just unique oddities; they are feline treasures that capture our hearts and brighten our homes.
These lovable bundles of fur remind us that sometimes, the most remarkable and fascinating aspects of our lives come in the smallest of packages.
Embrace these captivating cats and celebrate the delightful quirks they bring to the world of feline fanciers.
How Munchkin Cats Melt Our Hearts (Video)
QUOTE:
"In ancient times cats were worshipped as gods; they have not forgotten this."
-- Terry Pratchett