Cats may seem independent or even aloof, but they have many needs and facets to their personalities. It is tempting to assume that cats will always be all right left alone for long periods, but the real answer may be surprising.
The Short Answer
How long you can leave a cat alone is variable but generally depends on the age of the cat. Kittens under four months should never be left alone for more than four hours. A rule of thumb for kittens is that they may be alone, in a safe environment, an hour for every month in age, up to six months. Adolescent cats (six to eighteen months) also need more attention than adult cats. However, they can usually handle an eight-hour day alone.
Healthy adult cats (nineteen months to ten years) are generally safe for twenty-four to forty-eight hours maximum as long as freshwater is available. After that, water and litter tend to get dirty. Keep in mind that each cat is unique and needs vary from breed to breed. "Oriental" breeds such as those in the Siamese family, Burmese, Burmillas, Havana Browns, and Tonkinese tend to need more human interaction and attention than other breeds.
How long you can leave a senior or geriatric cat alone depends on her temperament and health. Senior cats range in age from eleven to fourteen years while geriatric cats are fifteen years and upwards. They can have very set routines and experience worse anxiety when there are interruptions. Geriatric cats can even become disoriented with too many changes.
These kitties may also need medicine or special food more frequently than healthy adult cats. In these circumstances, a cat sitter is highly recommended for maximum health and happiness of your cat. It will be worth the peace of mind.
Cats Do Get Lonely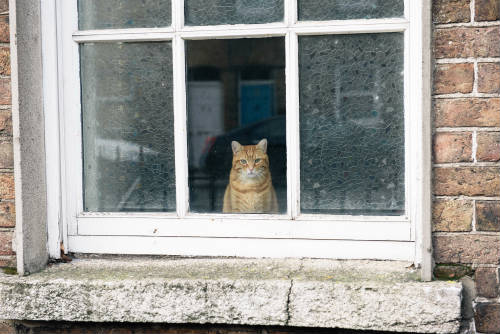 Cats form long-term bonds with their favorite people and/or feline friends. Different cats have different ways of showing affection and spending time with their favorite person(s). For some cats, it is lap time and plenty of strokes, for others it is simply occupying the same sofa or room. It doesn't mean they don't care, they just have a specific way of showing it.
Extended absences can cause behavioral issues such as knocking things over or ripping things up, eliminating outside of the litterbox, and becoming antisocial. Counterintuitively, cats can also get stressed if their environment is under stimulating. Cats need a stimulating environment with play and interaction to prevent frustration and aggression.
Cats are creatures of habit. Interruptions in daily routines can cause stress or anxiety. Long-term interruptions can even cause depression. Keep a close eye on your kitty to notice if any of these emotional conditions develop to treat and prevent their adverse effects.
Cats can form good bonds with other cats, which can curb loneliness and anxiety. However, if a cat has a special relationship with a human, she can still become lonely without him. If you are adopting a kitten and are considering a companion, choose two kittens from the same litter or two cats of similar age.
If you wish to add another cat to the household because your lifestyle requires frequent absence, carefully consider all the reasons you want another cat. It is important to commit to the lifetime of affection and care that comes with adopting a second cat. For second adult cats, it is often better to choose a cat younger than your present one and of the opposite sex to ease the transition into the household social structure.
Needs
Cats need food, clean water, a clean litterbox (or two), play, attention/affection, and grooming.
Bestseller
Food & Water
Freshwater is needed daily and should be replenished and changed often. Consider a water fountain to aerate the water, preventing it from getting stale. Dry food needs are low-maintenance. Provide enough food for frequent browsing but ensure food does not get stale. Stale food can cause digestive issues or be rejected outright by a picky eater. If your kitty eats wet food or has other dietary needs, she may need to feed more frequently and need her plate freshened more often.
Litter
Litterboxes generally need to be cleaned twice a week but, in some cases, it is wise to scoop the litter daily. It depends on the type and temperament of the cat. Change the entire box of litter every two to three weeks. Keeping the litterbox clean will prevent behavioral issues such as eliminating outside the litterbox, or in your favorite shoes.
Sale
Bestseller
Play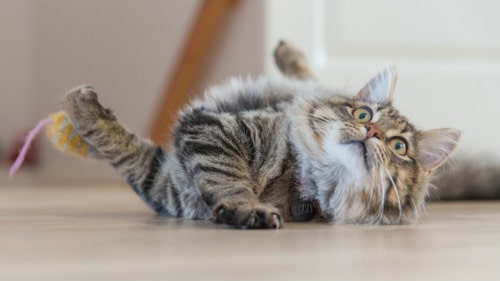 Adult cats need ten to fifteen minutes of play a day for proper stimulation and exercise. Play is stress relieving and can alleviate many behavioral problems. Kittens need much more play – they will find it themselves if they do not get it! It is recommended to spend at twenty minutes or more at least twice a day playing with your kitten.
Attention & Affection
How much attention and affection your cat needs vary by individual. Some cats like to "hang out" in the same room as you while others may crave lap time and cuddles. Every cat is different, so it is impossible to say exactly how much time your cat needs to spend with you. Some days your kitty may need more time bonding than others. Stay sensitive to the amount of attention she craves so you can keep being consistent in your care.
Cats are very intuitive and intelligent. A study done at Oakland University in Rochester, Michigan, indicated that cats learn your facial expressions over time and begin to reflect your emotions. Cats use this emotional information to deepen their bond with you and fulfill their own emotional needs. This bond becomes integral to their emotional health.
Grooming
While cats are self-cleaning, it is necessary to give her a good brushing to cut down on shedding and prevent hairballs. One to three brushings per week is generally enough for short-haired breeds. Some longhaired cats may need brushing at least one to two times a day. Anticipate more brushing during shedding season in spring. Also, senior cats who have trouble keeping themselves clean may need extra brushing.
Bestseller
How to Prepare
In reality, it is nearly impossible to prevent kitty from ever being alone, especially if you work outside the home. There are things you can do to prepare yourself and your home to keep her as comfortable and safe as possible.
Short Periods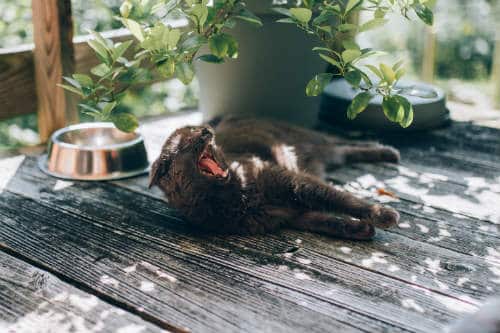 For short periods (such as during a workday or overnight), make sure your cat has access to fresh food and water and a clean litterbox. Consider playing with her before work to expend some of her energy and strengthen your bond. Add cat trees or perches and safe toys that do not need supervision to your home so she can be entertained while you are gone.
Kittens come with more considerations. Pay close attention to potential hazards such as electrical cords and appliances. They need frequent playtime so provide them with plenty of safe toys and things to pounce on. Cats, especially kittens, can be climbers. Make sure your home is as kitten-proof as possible to prevent accidents and injuries. For extra safety, consider getting a large crate to keep her contained but have enough room to play.
Long Periods
If you need to leave your cat alone for twenty-four to forty-eight hours, prepare your home by providing for kitty's needs and cat-proofing. Also, consider a cat sitter.
One day out, make sure you:
Fill water bowls or fountain with fresh water.
Ensure there is adequate food for your kitty in bowls or a pet food dispenser.
Scoop the litter boxes to ensure they are clean and ready.
Cat-proof your home for hidden dangers such as poisonous plants, sharp objects, dangerous chemicals, and small toys. Unplug appliances such as paper shredders, ensure cables and electrical cords are stowed away safely. Close the toilet lid.
Make sure the house is inviting, entertaining, and cozy by providing quiet sleeping spots, scratching posts, and toys safe without supervision.
Have a play and affection session before you leave.
Prepare information for your cat sitter and double-check on your pet sitter arrangements.

It is good for a cat sitter to attend to your cat's immediate needs but also spend some extra time interacting with her or simply being in the home with her for fifteen to thirty minutes a day. She should observe any changes in your kitty's behavior, appetite, litterbox habits, and grooming. Changes could be an indication of anxiety or illness.

Provide your cat sitter with a written list of instructions and contact information to make sure you are as clear as possible. It can help to give these instructions in person so you can show your cat sitter where supplies are located and how to give your cat any medication she may take.
Bestseller
The following is an example of things to include on your list:
Your name and contact number
Name of cat
Feeding times
When and where she eats
Medication information
How often to change the litterbox
Personality traits
Where she likes to hide and sleep
Where to locate pet supplies, including the cat carrier
Name and number of a veterinarian
Name and number of your emergency contact

Do not leave a cat alone for more than forty-eight hours without a cat sitter or someone to check on her daily. If you must leave your cat for that length of time, try a cat sitter or consider a boarding facility that specializes in cats. However, it is almost always better for your cat to stay within your home since this is her territory. It can be stressful for a kitty to lose her favorite human companionship and her territory for a length of time.
Keep an Eye on Kitty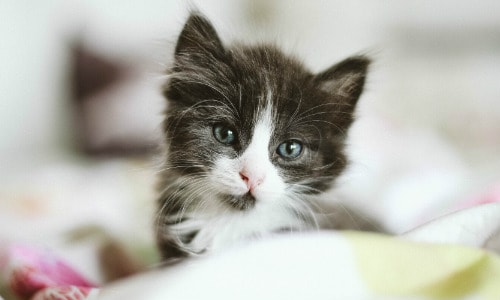 If you are very concerned about your absences, it is possible to install a small camera in your home to monitor your kitty. It can be comforting to see her snuggled in her favorite sleeping spot and know she is safe.
If your cat suffers from separation anxiety, consider a pheromone plug-in that uses artificial pheromones to keep your kitty calm. Keep a close eye on your cat's behavior for any indications of worsening emotional issues such as anxiety and depression. Overly frequent meowing can also be a sign that your cat is bored or frustrated spending too much time alone.
Bestseller
With time, you get to know your cat and what is normal for her. Adjust your behavior as able and bring her to the veterinarian at the first sign of trouble.
Product data was last updated on 2020-06-03.