Ever wondered how much time and attention your furry friend truly needs? Cats are often seen as independent creatures but also crave interaction and attention. The amount they need can vary based on several factors, including their age and personality.
Have you recently brought home a bundle of energy and curiosity, also known as a kitten? 🙂 If so, prepare to devote several hours a day to playtime, grooming, and simply cuddling — activities crucial for your kitten's development.
But what about adult cats? They might seem self-sufficient, but don't let that fool you. They still require your attention, albeit in a different way. Aim for at least 15-30 minutes of playtime daily. This activity keeps them fit and strengthens your bond. Plus, who could resist the sight of a cat chasing a feather wand?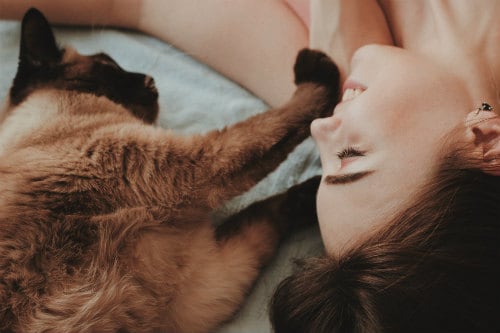 And let's not forget about quality quiet time. Simply sitting with your feline friend while you read or watch TV can also count as bonding time. They might not be the center of attention, but your presence can make them feel loved and secure.
It's also worth noting that the breed of your cat can play a role in how much attention they crave. For instance, Siamese cats are known for their vocal nature and demand for attention, while Maine Coon cats love socializing and interactive play.
To keep your cat content when you're not at home, provide an array of toys and stimulating activities. However, a sudden change in their behavior or an increase in mischievous acts might signal that they need more attention or mental stimulation.
In the end, each cat is a unique individual with its own needs and preferences. Understanding these and adjusting your interaction accordingly will ensure your bond remains strong and your cat stays happy. Remember, your attention is one of the greatest gifts you can give to your feline friend.
Summary of Cat Attention Needs
| Cat Age/Type | Attention Needs |
| --- | --- |
| Kittens | Several hours a day for playtime, grooming, and general interaction |
| Adult Cats | At least 15-30 minutes of active play daily, plus quiet time together |
| Siamese Cats | Known for being vocal and needing a lot of attention |
| Maine Coon Cats | Sociable, enjoy interactive play |
| Cats Acting Out | May need more attention or mental stimulation |
These are general guidelines, and individual cats may have different needs based on their unique personalities and circumstances.
Don't Forget about Cat Care Needs
Ever wondered what it really takes to keep your feline friend purring with happiness? While cats might be less demanding than their canine counterparts, they still need daily love and care.
Here are the essentials of cat care to keep your kitty healthy and content:
Feed them food and water daily.
Take them to the vet every year for a check-up.
If your cat gets sick or hurt, take them to the vet.
Make sure your cat gets shots to stop them from getting sick.
If you don't want baby cats, you should get your cat spayed or neutered.
Your cat needs a good place to sleep. This could be your bed or their own.
Your cat needs a clean bathroom spot, like a litter box.
Help your cat stay clean by grooming them. This helps you and your cat get along better. Some cats need more grooming than others, depending on their hair.
Summary of Cat Care Needs
| Cat Care Needs | Frequency |
| --- | --- |
| Food and Water | Daily |
| Vet Check-up | Annually |
| Vet Visit (if sick or injured) | As Needed |
| Vaccinations | As Recommended by Vet |
| Spaying/Neutering | Once (if not breeding) |
| Comfortable Sleep Area | Always Available |
| Clean Litter Box | Always Available |
| Grooming | Depends on Breed (Daily for Longhaired, Weekly for Hairless) |
In short, looking after a cat is a labor of love, but with these tips in mind, you'll be well on your way to providing the best, most attentive care possible for your feline friend.
How Long Can You Leave Your Cat Alone?
Even the most adoring cat owners usually have jobs. While the fortunate ones can work at home, a majority still have to commute somewhere and leave their cat home alone.
As to how long you can leave your cat home alone, the answer depends on health, age, and breed. Generally, the average healthy adult cat can be left alone for up to half a day. Kittens and frail senior cats, however, should not be left on their own for that long, as there is too much risk of something going wrong.
In addition, some breeds are needier than others and can suffer separation anxiety like many dogs. Examples of such clingy cat breeds include Sphynx, Scottish Folds, Ragdolls, and Birmans.
5 Signs Your Cat Craves More Attention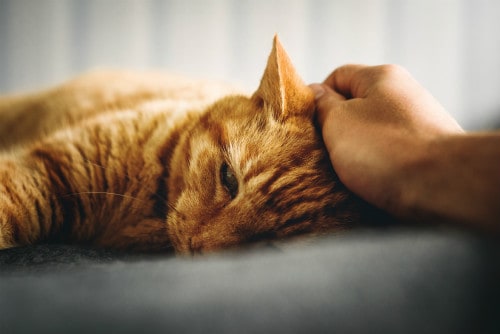 A cat that wants you to pay more attention to her will do its best to let you know. Cats will demand attention from their owners if they're bored, lonely, or ill. In fact, changes in behavior can often indicate illness in a cat, so if she starts doing something that seems out of character for her, you might want to call the vet.
Even if she's feeling fine, a cat may still want attention from her owner, and she may use any of the following tactics:
1. Lots of Crying
Adult cats only meow at humans, not fellow felines. Cats generally use body language to communicate with each other. Since humans don't read cat body language well, cats use meowing to get human attention. While meowing is normal, it becomes excessive if the cat cries nonstop, sounds desperate, or ramps up the volume when their owner is trying to sleep.
2. Destructiveness
Scratching lets the cat exercise its forelimbs and shed their claws' outer sheaths. That's why the prudent owner will provide a cat with a scratching post. A cat will also scratch objects to mark them with the pheromones secreted by glands on their feet.
Like crying, scratching is thus a normal and healthy behavior. It can, however, indicate neediness or unhappiness in a cat if she starts clawing things that she shouldn't just to get a reaction from her owner. To some cats, negative attention is better than no attention, and a person who is yelling at their cat is still paying attention to it.
3. Pawing
A cat that paws at its owner's arm or leg is sending a very clear sign that they want its owner's attention.
4. Jumping On Furniture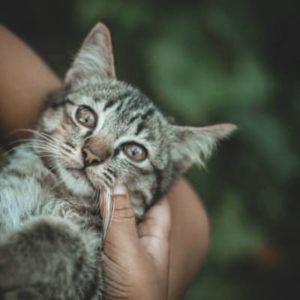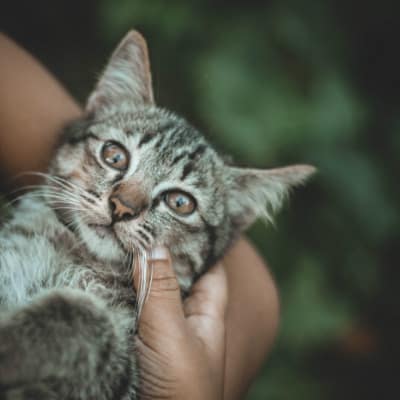 Again, jumping onto places is perfectly normal behavior, and most people don't object to their cat jumping onto the bed. On the other hand, they object to the cat jumping onto the table when they're eating or jumping onto the kitchen counter while fixing breakfast. Cats that jump onto places where they don't belong are often trying to get their owner's attention. For instance, playing with the cat for a bit before cooking may be a good idea.
5. Knocking Stuff Down
Sometimes, a cat will knock items off a table or a shelf because they're curious and want to see what happens. Other times, they will be trying to get their owner's attention, particularly if the owner is nearby.
What Is Enrichment?
Enrichment, sometimes also called behavioral enrichment or environmental enrichment, is a concept derived from animal husbandry. It describes ways of improving the physical and psychological health of an animal by exposing it to various stimuli, particularly stimuli it would encounter in the wild.
Enrichment can be passive or active. In passive enrichment, the owner or zookeeper simply exposes the animal to different sights or sounds that it might enjoy. Common examples of passive enrichment for cats include windows that provide a good view of the outdoors and videos of birds.
Active enrichment requires the animal to do something in response. Many cat toys provide active enrichment by stimulating the cat's prey drive. Some people use puzzle feeders to make their cats work harder for their food and to challenge their minds. Cats, after all, evolved as hunters. They are supposed to seek their food rather than just have it given to them.
Interactions with humans or other pets are also considered a form of active enrichment, for the cat should respond in some way to their owner or fellow pet. Despite their reputation as loners, most cats do enjoy companionship, be it in the form of a human, dog, or fellow feline. Some breeds, such as the Siamese, are said to do best in pairs. These cats crave a lot of attention, and they can play with each other if you aren't around.
How Do You Provide Enrichment for a Cat?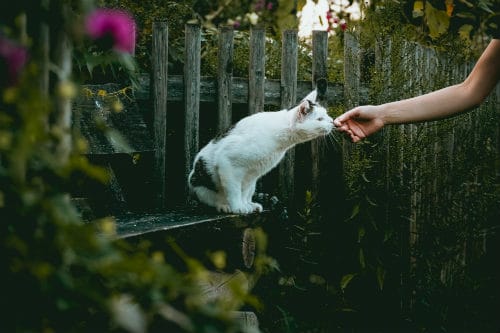 As already mentioned, passive enrichment can often take the form of bird videos or a window with a good view of the outside. You can provide a hammock for them to rest on while they watch the world go by.
A catio is an outdoor exclosure that is often connected to the house. It can provide cats with the best of both worlds: the safety of being indoors along with the stimulation of the outside world.
Cats like perches. They typically feel safest and most secure when they are someplace high with a good view. If you don't want your cat climbing your bookshelf, get them a cat tree.
Cats also need scratching posts. Clawing is a powerful instinct; even declawed cats go through the motions of clawing. There are many types of scratching posts available made from a variety of materials.
There is also a large variety of cat toys. Many, like the classic catnip mice, can be enjoyed while you're away. Some, like feather wands or laser pointers, are "interactive." That means you have to use them while playing with your cat. Many of the interactive toys work by triggering a cat's hunting instincts, so you try to get them to chase the feather or red dot. These toys also have the advantage of encouraging the cat to exercise so it will stay a healthy weight.
"I Want a Cat, but I Don't Have a Lot of Time."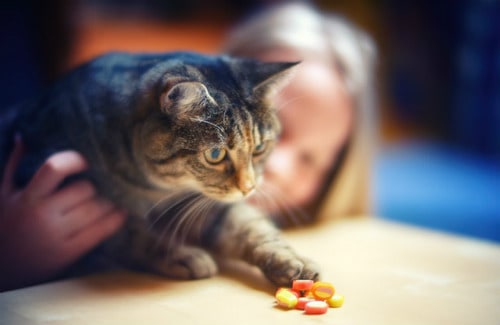 You can get a pair of cats, so they can play with each other, while you're busy. You should also get adults for they require far less care than do kittens. Remember, a cat's average life expectancy is around 15 years, so if you get a pair of three-year-olds, they can keep you company for a good dozen years.
Shorthaired cats need less care than their longhaired cousins. Those gorgeous coats require daily grooming, while cats with short hair may need to be groomed only once a week.
If you can squeeze a daily grooming session into your busy schedule, consider getting Norwegian Forest Cats. These big longhaired cats are believed to be descended from cats that traveled with the Vikings. While they can be affectionate, any relationship will be on their terms. In other words, they will decide if they want to sit on your lap or not.
The Russian Blue, like the Norwegian Forest Cat, often appears on "Most Independent Cat Breeds" lists. It's a slim shorthair that always has a blue-gray coat tipped with silver. The Russian Blue is often described as "reserved" and "shy," but it also has a playful side and loves to fetch.
The American Shorthair is a descendant of cats brought over from Europe during colonial times. As such, it is one of the oldest cat breeds in the United States. It tends to be medium-sized or large and is most often a tabby. It can have a life expectancy of up to 20 years. Like the Russian Blue, the American Shorthair is one of the quieter breeds. While it doesn't demand attention, it does enjoy play sessions with interactive toys.
Conclusion
I hope this article helped you to understand your cat's needs. For additional information, watch the below video.
The ONE Thing You Should Know Before Adopting a Cat (Video)
Product data was last updated on 2023-09-21.
QUOTE:
"In ancient times cats were worshipped as gods; they have not forgotten this."
-- Terry Pratchett