Generally, cats roll around in the dirt for the same reason they have for anything else they do: it feels good. The more exact reason behind this could be to cool down, to communicate with other cats, or just to scratch an itch. While this behavior may seem odd to us as cat owners, it's a perfectly normal behavior for your cat, and can help them with a host of problems.
The only real problem with your cat's love for impromptu dust baths is that it tracks dust and dirt indoors, and can have a negative affect on any yard landscaping. However, if your cat spends most of its time outside, or if you're not all that worried about a particular patch of dirt that your cat seems to like, there's no reason to be concerned with your cat's dirt loving behavior!
Cooling Down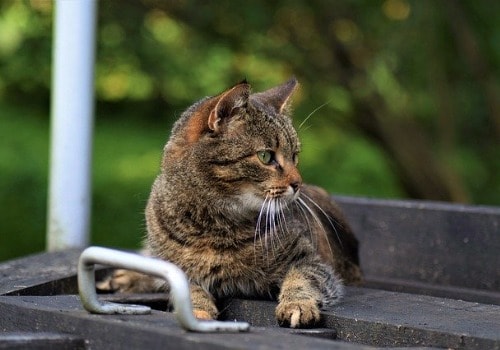 If you notice your cat seems to spend more time in the dirt on hot summer days, there's usually a pretty simple explanation. That explanation is simply this: it's hot out, and your cat's thick coat and warm fur make it kind of hard to cool down.
Bestseller
On hot days, bare dirt may feel warm to the touch, but only for the first few centimeters. Below that, dirt usually stays cool, helped by a layer of moisture that hasn't evaporated due to direct sunlight, and it could be that your cat is taking advantage of that fact.
Especially if you notice them squirming and moving around, your cat may be trying to brush past the top layer of hot dirt and to the cool, dark soil beneath. Cats are famous for their dislike of water, and where a dog may have no problem jumping into a kiddie pool, a sprinkler, or a puddle to cool off, a cat is far more likely to go for a cool patch of dirt instead.
If you notice your cat taking dust baths on hot days, try to provide other ways for them to cool down. Make sure that they have plenty of cold water and access to cooler parts of the house. If they're primarily outside cats, provide a place for them to rest in the shade, or consider setting up an outdoor fan so that they can catch a cool breeze.
Ice is your best friend during long, hot summers. Obviously, you can drop a couple of ice cubes into your cat's water bowl, but if your fans don't seem to be cutting it by themselves, try putting a bowl full of ice directly in front of a small fan, so that the air it generates will be cold and fresh.
Bestseller
Some cats will roll around in the dirt despite these measures, but that doesn't mean that they don't appreciate the effort you put in on their behalf! Your cat may just prefer to take a quick roll in the dust for various reasons, including:
Communicating with Other Cats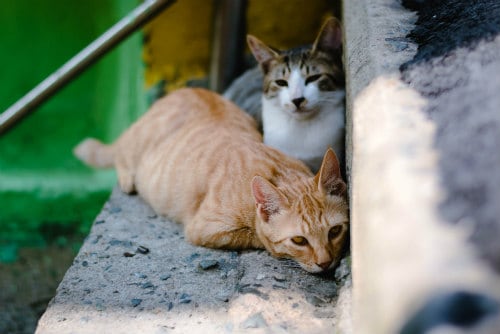 Cats are largely scent-driven creatures, and this extends to their interactions with other cats in the area. Scent glands on the top of the head, the cheeks, the paw pads, the tail and the mouth secrete a pheromone that is unique to each cat and that serves as a signature of that animal. This is, of course, most often seen in the way cats rub their cheeks against pieces of furniture or even people to claim them as their own!
However, sometimes dust bathing can help spread the same message. As your cat rolls around, he or she will leave some of that same smelly signature. Especially if your cat likes to dust bathe in the outer limits of your yard, this can act as a sort of territory marker that warns other cats in the area to stay away.
Sometimes, rolling around in the dirt can also act as a way of checking the message board, so to speak. Because the soil traps so much of the scents around it, your cat can get a better feel for what's going on in the neighborhood by inhaling the signatures left by any other cats in the area.
Finally, especially if you own a female cat that hasn't been spayed yet, rolling around in the dirt can be a way of signaling to male cats in the area that she's single and ready to mingle. Aside from spreading the pheromone signature that's altered when a female cat is in heat, a female cat rolling on the ground can also serve as a visual cue that she's willing to mate, according to a study in 1994.
Scratching an Itch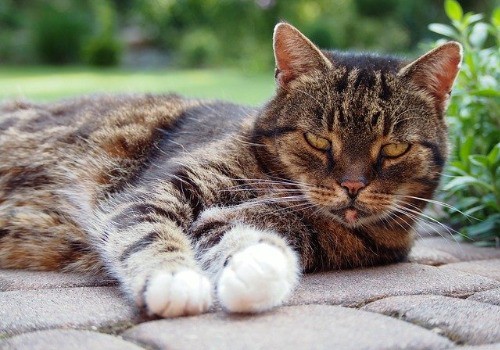 The final explanation is really the simplest explanation of the three: lacking opposable thumbs, cats scratch itches that they can't reach by flopping onto their backs and rolling around in the dirt and grit.
This is common in a lot of other animals with thick fur or feathers, including rabbits, chinchillas, bison, and any number of birds! Even dogs and horses have been observed dust bathing or wallowing in snow, dirt, or mud. Explanations for this behavior range from natural sunscreen to skin protection from mites.
Bestseller
Allersearch ADMS Anti-Allergen Spray 32 oz.
32 oz. spray bottle that will treat...
This inorganic anti-allergen spray uses an...
Its non-staining formulation does not contain...
For use on Carpeting, Upholstery, Window...
All Allersearch products are safe for people,...
In cats, as mentioned above, their usual aversion to water means that it can be difficult to wash away small irritants beneath the fur. The fine grit of the sand or dirt acts to rub against any itchy spots on the skin, and the back and forth movement of rolling in the dirt helps release tension, so that your cat will feel a lot happier after having a quick dirt bath.
Rolling around in the dirt can also help rid your cat of parasites like ticks or fleas. This is the main reason why most birds dust bathe, and cats are usually able to maintain a higher level of cleanliness, so it may be less ordinary in larger mammals. However, small insects that may be able to avoid your cat's grooming can be quickly swept away by a tide of dirt and dust.
In addition, the small grains of dirt are able to work into small spaces that your cat's tongue may not be able to reach. This, combined with the all-over and immediate relief provided by squirming around in the dirt, can provide a powerful motivation for your cat's seemingly random dust baths.
If you notice your cat dust bathing and then immediately grooming or chewing on specific areas of fur and skin, this may be a sign that your cat is infected with fleas, ticks, mites, or other incredibly small parasites. This is not to say that all dust bathing is an automatic sign of parasites, only that it may serve as one of many symptoms.
Bestseller
If your cat is constantly itching and pulling at their own fur, combined with the constant dust bathing, check for bald spots or growths of skin, scabs, and red spots beneath your cat's fur. Keep an eye out, too, for clusters of what will look like tiny white dots around the base of the hair in your cat's fur.
These are the usual indications that your cat is suffering from a parasite infection. If you notice any of these symptoms, especially in combination with any behavioral changes that indicate discomfort or distress, take your cat to the veterinarian immediately. Fortunately, most parasites are pretty easily treated, and your cat should be feeling back to normal in no time at all.
If your cat isn't showing any other signs of fleas, ticks, or mites, then their happy dust bathing is probably just a way of relieving a quick itch. Rolling around in the dirt reaches every hard-to-scratch patch of skin, has a massaging effect, and can help your cat feel relaxed and content without having to constantly groom, scratch, and rub against your furniture to do so!
Conclusion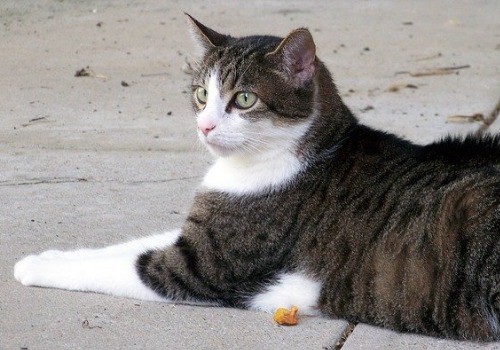 If you live in an area with lots of cats, or even just a few cats that pass by from time to time, dust bathing and rolling around in the dirt can be a vital way for your cat to get a message out to the whole neighborhood. If not, it can still help them stay happy and healthy in a way that "cleaner" living might not be able to do.
As mentioned above, if you think your cat's dust bathing habits could be a sign of parasites, try an anti-parasite medication or take your cat to the vet. If your cat shows no other symptoms of distress, however, it's probably safe to say that they're just enjoying the sensation.
If you're worried about your cat tracking dust indoors, keep a towel by the door and wipe them off before you let them cross the threshold. Similarly, if you're worried about them disturbing a fragile patch of the yard, or maybe an area where you're trying to grow some sort of garden, try providing another area for your cat to dust bathe in peace.
If you're not worried about home or garden perfection, however, there's really nothing to worry about! While your cat's love of rolling around in the dirt may seem strange or off-putting to you and the rest of your human family, it's perfectly normal for your cat.
Bestseller
In fact, a cat's love of dirt and dust, while it may seem very at odds with their usual meticulous grooming, provides a quick, easy way to provide relief from a persistent itch, a parasite, or just a sudden cold spot on an unbearably hot day! No matter the reason, dust baths are fun, quick ways for your cats to feel good, and are nothing at all to be worried about.
Product data was last updated on 2019-08-20.