We know you love your cat and want him/her to have the best life. This is why we recommend the K&H Pet Products EZ Mount Cat Scratcher Kitty Sill Cradle & Refill.
You would love to provide an environment that is as close to the outdoors as possible. However, allowing your cat to roam around outdoors can be dangerous due to predatory animals and busy streets.
If you opt to keep your cat indoors, not to worry. They can still enjoy the outdoors and revel in the activities they would normally enjoy in their natural habitat. One of the best ways you can create an ideal environment for them is by providing a cat window perch.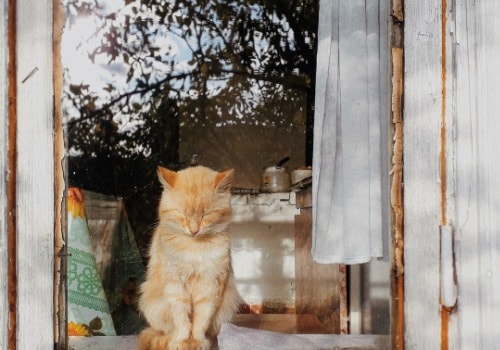 What Is a Cat Window Perch?
If you own a cat, you know that the most coveted of spaces in your home is the window sill. It is here that your feline friends can stretch out in the warm sunshine as well as stalk the various birds, squirrels, and other critters outside.
To address this particular behavior in cats, companies have developed various products that act as an elevated position for your cat to sit or lie on. A cat window perch is fundamentally a cat bed that provides all the things your cat desires – a terrific viewpoint of what's going on in the outside world and an inviting spot off of the floor.
What Are the Benefits of a Cat Window Perch?
Installing a window perch ensures an environment where your pet can lounge about without causing any disturbances to your surroundings.
Cat window perches seek to offer a healthy lifestyle for cats that stay indoors. With a healthy atmosphere that mimics their natural surroundings as closely as possible, you can increase the life expectancy of your cat to as long as 20 years.
What Should You Consider When Buying a Cat Window Perch?
You would think that a cat window perch is pretty simple and straightforward. However, there are a number of factors you need to consider before running out and purchasing one on a whim.
Window Type
One consideration that is very important, yet too easy to overlook, is the type of window on which you will be installing the perch. Therefore, you need to be mindful of the weight of the perch. If you buy one that is too heavy, it could ruin the glass if it is positioned on a modest single-pane window.
However, if you're considering installing your perch on a large double-strength window, then you shouldn't need to stress much about the weight as such windows are typically able to support a good-sized perch without any problems.
Size and Weight of the Cat(s)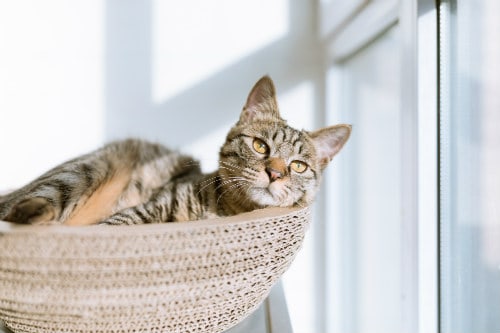 Cat window perches come in assorted sizes and weights, so it's essential to ensure you obtain one that can take on the weight of your cat. In addition, you'll also want to take the present and the future weight into account. For instance, if your cat is young, he or she will certainly increase in weight and size with age. In such circumstances, you should consider a window perch that is a well-built and good size.
Moreover, a number of cat breeds – such as Maine Coons – can grow to be very large in size. You will require a large window perch that can sustain the size and weight of a fully grown cat of your breed.
You may also want to review the size and weight of your desired perch model if you have more than one cat or are thinking about acquiring more cats in the near future. If you have friends or family members who often bring their cats over to your home, this also a factor you want to consider.
The Top 5 Cat Window Perches
Now that we have addressed the benefits of owning a cat window perch and have listed the main factors to consider when buying a perch, we will conduct a review of the top 5 cat window perches on the market today. Lastly, we will reveal our top pick and the features that have us convinced that your furry friends will be happiest with their perfect perch.
This durable cat window perch provides a cozy, relaxing experience and is comprised of super soft orthopedic foam with a faux lambskin cover. The legs are 3/4″ wide and 8″ from the window sill to the bottom of the legs.
Pros:
The perch supports up to 40 pounds. You can keep 2 large cats or 3 smaller cats on it at once.
The lambskin cover is removable and washable.
No tools are necessary for mounting if you use the velcro adhesive strips.
Additional screws are included for extra support if you need it.
It fits sills as narrow as 2″.
1-year limited warranty.
Cons:
You will likely need the provided screws as the velcro may not be strong enough to accommodate particularly heavy cats.
Some consumers have reported that the perch was delivered with missing parts.
Cats can easily climb in and out via the built-in ledge while the open mesh windows let them see everything going on both indoors and outdoors. The luxurious microfleece covering makes a little or long snooze feel safe and cozy.
Despite cats rubbing their face on them and chewing on them, the chords are made of tough wire. This company definitely market tested this product and understands cats.
Pros:
No tools required for mounting.
Accommodates several cats with the extra strong suction cup support that withstands fluctuating temperatures and humidity.
Mounts to almost all windows or glass doors.
Built-in ledge for convenient entrance and exit.
Cons:
The manufacturer does not specify the total weight capacity. However, people have reported that it securely accommodates 2 cats of around 10 pounds each.
There tends to be one defective suction cup.
This cat window perch also helps keep your cat's claws healthy and encourages beneficial cat scratching practices which gets rid of the dead outer layer of their claws. Aditionally, cats mark their territory by scratching so this is an ideal perch to encourage natural feline behavior. It also utilizes powerful stay-put suction cups.
Pros:
Kitty perch and scratcher all in one.
Supports up to 60 pounds.
2 words – Free Catnip!
Contoured, cutting-edge styles.
Available refills for cat scratcher.
The design of the perch allows you to close curtains and blinds.
It necessitates only 18″ width of glass so it fits narrower windows.
Cons:
Some concerns were reported about the manner in which the cardboard scratcher is fastened on the window mount – it does not appear very secure.
The cords that attach up to the top row of suctions may get in the way of the cat jumping up and sitting. They are rather low to the scratcher and not far enough to the edges.
We really love the space-age look to this kitty pod perch. You can choose from 2 colors – brown or green. Again, these feature powerful suction cups which mount to any clean and dry glass surface. Your kitty can observe the outdoors and also keep a lookout for you at all times.
Pros:
Trendy bubble enables your cat view inside & outside.
Holds up to 60 pounds.
Amazin' Kitty Pad is included.
Outlets on both ends so you cat get enter or exit from either side.
Sturdy EVA structure.
1-year manufacturer's warranty.
Cons:
Some cats may not like the "closed in" feel of this pod since it does not allow for much room to "stalk" their outside prey.
It is bigger than it appears in the photos, even with the dimensions so some consumers have had to make adjustments for it to fit.
This adorable window perch is available in black or red and comes in single or double-decker. So, if you have multiple cats, there will be less fighting over a prized spot in the window. Like most of the perches we've reviewed so far, this comes with strong suction cups you can affix to any glass window or door.
Pros:
The padded cover is constructed from lycra cloth which makes it flexible.
It is breathable to prevent your cat's body temperature from becoming too hot.
Can hold up to 35 pounds.
Your cat can jump in and jump out through a round entry hole in the top.
The perches are collapsible for cleaning and storage.
Cons:
There are some reported problems with the suction cups not working properly. The best strategy is to put it into warm water for 2-4 minutes if the suction cups do not mount well. Wet the cups just a little and then attach to the window.
The velcro that secures the lycra cloth cover is not very strong which can cause the perch to fall.
Our Top Window Perch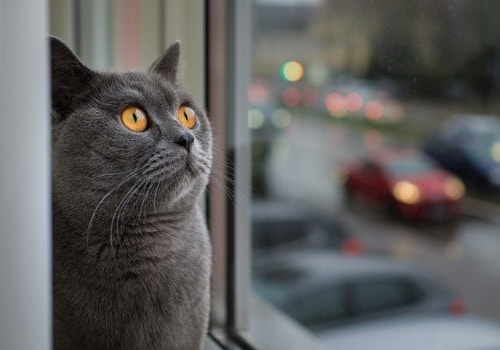 While all 5 of the cat perches reviewed boasted a lot of happy customers (both humans and kitties), our favorite pick is the K&H Pet Products EZ Mount Cat Scratcher Kitty Sill Cradle & Refill.
The fact that it curves to cradle your cat's body and doubles as a scratcher are 2 major advantages over the competition. Your furniture will be very thankful. The free catnip is also an added bonus to ensure your cat will get the most enjoyment possible.
Our little furry family members deserve the best. The ideal window will certainly make them feel they truly are royalty – although we're sure they already know they are!
Product data was last updated on 2023-08-29.
QUOTE:
"In ancient times cats were worshipped as gods; they have not forgotten this."
-- Terry Pratchett